Guest Blogger: Confessions of an ADD Housewife
Hey everyone! We had a great time in Ocean City, MD despite Molly having a little stomach thing one night and a sprained knee the day before! Now we are in the outer banks of
North Carolina
, my favorite place to be in the summer! We had a blast
last year
and it occurred to me that it's my
1 year blogging anniversary
!! I love commemorating it with guest bloggers so here is another one!
Micki from Confessions of an ADD Housewife is giving us a taste (heh heh) of her early blogging days with this delicious sounding chocolate chocolate chip cookie recipe! Check out all her cool ideas on her blog! And remember, if you pin anything on this post please go back to her site and pin from the ORIGINAL posting!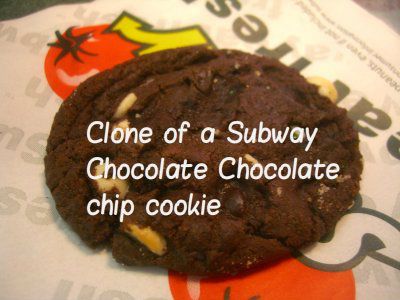 I've been working on perfecting a cookie recipe. I'm not one to reinvent the wheel, so I started with an excellent recipe from Alton Brown. I've been tweaking it for awhile with different types of milk, trying to get just the right richness and softness. I've tried using things to make it healthier, like flax but it wasn't quite the right texture.
Last night, I tried a new combination that hit it out of the park and tastes exactly like the chocolate chocolate chip cookies from Subway...the ones our local shop no longer serves.
So here it is... Please try it and let me know what you think! Next go around I'm going to try mint chocolate chips or maybe mint extract instead of vanilla.
Clone of a Subway Chocolate Chocolate Chip Cookie
2 sticks unsalted butter or margarine
2 1/4 cups flour
1 teaspoon kosher salt
1 teaspoon baking soda
1/3 C

dark

cocoa powder
1/4 cup sugar
1 1/4 cups brown sugar
1 egg
1 egg yolk
2 tablespoons half and half
1 1/2 teaspoons vanilla extract
2 cups semisweet chocolate chips
Directions
Heat oven to 375 degrees F.
Melt the butter. Sift together the flour, salt, and baking soda and add in cocoa powder. Set aside.
Pour the melted butter a large bowl. Add the sugar and brown sugar. Cream the butter and sugars on medium speed. Add the egg, yolk, 2 tablespoons half and half and vanilla extract and mix until well combined. Slowly add the flour mixture until thoroughly combined. Stir in the chocolate chips. Use a spoon or rubber spatula.
Chill the dough, then scoop onto parchment-lined baking sheets, 6 cookies per sheet. Bake for 14 minutes or until golden brown, checking the cookies after 5 minutes. Rotate the baking sheet for even browning. Cool completely and store in an airtight container.